On a misty afternoon last October, more than 75 people gathered at the head of the Red Trail at Buffalo State College's Whispering Pines camp to remember the man who helped make the bucolic getaway what it is today.
Members of the college's Faculty-Student Association (FSA) and United Students Government (USG) worked with the Blundell family and Paul Knapic, Whispering Pines caretaker, to organize a ceremony dedicating one of the main trails that wind through the pine and maple forests to Donald Blundell, '70, '77, retired director of the Campbell Student Union. Blundell died October 29, 2018, from kidney cancer, leaving behind a wife, three grown children, five grandchildren, and myriad friends. Many Buffalo State and Camp Board alumni cherished their experiences at Whispering Pines, under the tutelage of Blundell, and traveled from various distances to attend the ceremony, said David Meinzer, director of USG Press Services.
"Don loved Whispering Pines," Meinzer said. "When he passed, we intended to do something in his honor, and we decided upon the trail dedication."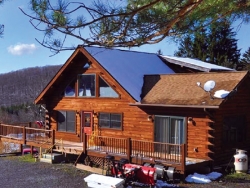 Located 63 miles away from Buffalo in Franklinville, New York, the 68-year-old camp provides a respite for students and alumni alike. Owned by USG and previously by FSA, Whispering Pines boasts 615 acres filled with forests, meadows, fishing ponds, streams, hiking trails, sledding hills, and guest lodges. Every year, about 500 students from numerous campus organizations visit Whispering Pines for day trips and overnight stays to build memories with other Bengals. Another 600 to 700 individuals from outside groups also make use of the camp annually. All recreation is of the analog variety; the camp has no Wi-Fi.
Spearheading the October 12 trail dedication was Blundell's wife, Kimberly Kline, professor of higher education administration who earned her master's degree in student personnel from Buffalo State in 1993. Kline and Blundell were partners for more than 20 years; they married in 2011.
"Whispering Pines was the love of Don's life," Kline said. "It was something to watch over the years. He literally bushwhacked sections of the forest and made these beautiful trails. The pine forest he maintained was so pristine, you could lie in it."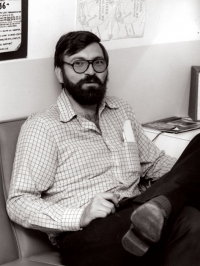 A former Eagle Scout, Blundell began working with the camp in the 1970s. He founded and served as adviser to the Whispering Pines Camp Board and the Wilderness Adventures Club, two student groups that planned outdoor-based leadership trips and handled the camp's weekend management.
Along with developing trails, "Blundell created signage for the flora and fauna that hikers would see along the way," said Gary Vickers, executive director of FSA for 44 years until his retirement in 2018. "He also steered programming money to Whispering Pines to make this possible."
Blundell was also deeply involved with FSA, a not-for-profit educational and benevolent membership corporation, most recently serving as treasurer and alumni board member.
"Don was one of my board members and the main reason I'm involved in the group," said Hope Dunbar, who serves as the current executive director of FSA, as well as special collections archivist at E. H. Butler Library. "He was always wonderful to me and is missed."
Through the years, Blundell developed programming for Educational Opportunity Program (EOP) and Upward Bound students. Through an auxiliary group he founded, Creativentures, he organized team-building activities for many New York businesses, schools, and organizations.
As a graduate student, Kline got involved in Creativentures. She handled the camp's calendar and remembers every weekend being booked.
"A lot of students grew up in city environments," she said. "When you got them into the woods, it was amazing. They helped me to discover new things each time I went."
Blundell was also instrumental in ensuring that the camp's full-time caretaker had a comfortable home. In the late 1990s, Blundell noted that the caretaker at the time lived in a rundown trailer. Kline said her husband not only found the funding to build an environmentally friendly log cabin; he also took a leave of absence from his job in order to personally oversee its construction.
Even when Blundell was nearing the end of his life, he insisted on visiting the camp to keep the trails clear, much to Kline's chagrin.
"He was such a kind soul," Kline said. "Don never said anything bad about anyone and was so positive that he never showed how sick he was. I honestly did not know he was in his last days until shortly before he passed. Going to the camp definitely kept him going."
 
---

Read the full article, including a brief history of Whispering Pines, in the current issue of 1300 Elmwood.