Now in its 20th year, the Center for China Studies at Buffalo State College  serves as a conduit for scholarly research between the United States and China. It's also a place where Americans can learn about Chinese culture, and vice versa.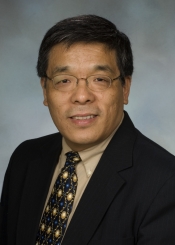 "Chinese people need to understand Americans, and Americans need to understand Chinese socially," said Zhang Jie, founding director of the center and a SUNY Distinguished Professor in the Sociology Department (pictured). "They have to be friends and visit each other." 
To that end, the visiting scholar program through the center brings several Chinese academics to Buffalo State every year for research, and the opportunity to learn from their American counterparts. It's important work, Zhang said, that allows the countries to share information and approaches in different academic areas. 
"Chinese scholars need to learn the new methodologies and radical approaches in social science research," he said. "They have to study under the guidance of American professors. They need to collaborate and offer data from China, and allow American professors to write papers on the Chinese data. And they also collect data in the United States to write papers and then compare the data."
The center has partnerships with several Chinese universities, including Beijing Union University, Beijing Capital University, Zhengzhou University of Light Industry, Shandong University of Finance and Economics, Jiaxing University, and Capital Normal University. The center also arranges for Buffalo State faculty and administrators to visit these universities for professional and academic opportunities to grow. 
Along with bringing scholars to Buffalo State, the center also helps with recruiting study-abroad students from China, Zhang said. The center also helps Buffalo State recruit students from Chinese universities in the current 3+2 programs. The Chinese undergraduates spend their first three years in China and come to Buffalo State in their senior year, with two years at Buffalo State for a master's degree. In each of the past five years, more than 10 students from China participated in this program.
Nearly 200 visiting scholars from China have come to Buffalo State since the program's inception, Zhang said. The number of scholars who come to Buffalo State varies each year. While in Buffalo, the visiting scholars conduct research with their stateside peers, conduct seminars in their research area, and take tours of area landmarks. 
Their research includes studying American and Chinese approaches to psychology, fine arts, fashion technology, history, political science, economics, education, mental health, and public health in the two countries. Working with Buffalo State faculty members, visiting scholars have published a large number of high-ranking journal articles.
The center also holds China Week during the spring semester. China Week was canceled this year because of the coronavirus pandemic, so three seminars with seven scholars were all held through Zoom teleconferencing. That didn't dampen the spirits of anyone involved, Zhang said. 
"They shared their ideas and presented their papers, and it was very successful," he said, noting that it was important for the scholars to meet, compare research, and look for possible collaborations, even if it was virtually. "It was very productive."
China Week is tentatively planned again for October in the Campbell Student Union and will celebrate the center's 20th anniversary.
Buffalo State has the only Center for China Studies in the SUNY system, Zhang said, and it's something he's proud of. 
"It's good for the globalization and internationalization of Buffalo State with the existence of the Center for China Studies here," he said. 
The end goal for the center is to inform students, faculty, and administration at Buffalo State about China's culture, Chinese people, politics, and social systems, Zhang said.
"Through the China seminars and through China Week, faculty and students and others are made aware of the existence of Chinese culture," he said. "Our students are not very familiar with China. Chinese people are more familiar with American culture than Americans are familiar with Chinese culture."