More than 60 educators, Buffalo State faculty members, and public officials gathered in the Campbell Student Union on Monday to discuss an increasingly important topic: civics education. 
Over the course of seven hours, participants of the "Reimagining Civics Education for a Better 21st Century" summit had an opportunity to attend presentations, keynote addresses, roundtable discussions, and a question-and-answer panel.
"We were inspecting our own prejudices and our own understandings about history and the political process," said Wendy Paterson, dean of the School of Education. "There were more questions being generated than answers being given, which is great."
The purpose of the summit was to bring together people who are working toward similar goals within civics education, said Karen King, commissioner of public advocacy for Erie County, and the executive director of the Erie County Commission on the Status of Women. King helped put together the summit with the School of Education.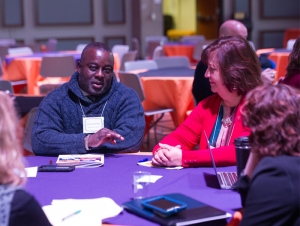 "We see this convening as an opportunity for a cross-section of community stakeholders from education, from public service, and the community to really brainstorm a more innovative reimagining of this whole project of civics education," she said. "We know that a rich civics education program makes students feel compelled to be more civically engaged, and we want citizens to be civically engaged."
Presentations included such topics as "Dueling Partners: History and Civics Compete in Social Studies Classrooms," "Alice Hubbard and the Roycroft Women's Fight for Suffrage," and "Reimagining the Teaching Profession to Promote Civic-Mindedness."

Steve Peraza, assistant professor in Buffalo State's History and Social Studies Education Department, presented "Voting Rights vs. Civil Rights: Intersections and Divergences" to a group of about 25 participants. Peraza's presentation looked at whether civil rights and voting rights are one and the same in the United States, and how to discuss the topics with students. 
"Who's running a voter registration drive in Buffalo?" he asked, relaying to the group what he asks students. "Why don't you go interview someone who's an activist or an organizer for that? Where are the major spots in Buffalo where there are going to be individuals working on the census? How much are the census workers going to get paid? Can you volunteer? Why don't you come to class and present on that? Then we can contextualize the stuff that we do in the community."
Peraza said he wants his students to be informed citizens when they enter the voting booth. 
"It's not just how it works," he said, referring to governance. "It's what you do to actually shape government decisions and participate in civil society."
Laura Free, associate professor of history at Hobart and William Smith Colleges in Geneva, New York, gave the morning keynote address, while Maria Whyte, the deputy county executive of Erie County, gave the luncheon address. Free presented an intriguing juxtaposition of the civil rights and voting rights movements of the Civil War era that led to the eventual ratification of the 19th Amendment. Free is the author of Suffrage Reconstructed: Gender, Race, and Voting Rights in the Civil War Era, signed copies of which were raffled at the conference.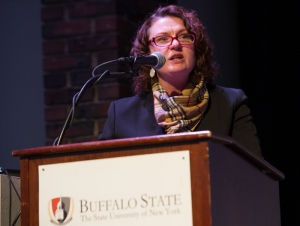 Whyte detailed her own political rise, from activist to elected official, and outlined areas that  educators should concentrate on with students. Local government is important, Whyte said, as it's the front line on issues like climate change and the opioid crisis.  
"You do have the power, and your students have the power, to change things locally," she said. "And I hope as educators that you underscore the importance of working locally, and don't think that local government doesn't matter."
Whyte went on to question what would happen if students aren't taught to be civically engaged. 
"Please tell your students to read, listen, and discuss," she said. "Tell them to vote, run, and win. Tell them if they do those things, they will help save our democracy."
In the afternoon, Buffalo State President Katherine Conway-Turner sat on a panel along with Erie County legislators April Baskin and Howard Johnson, and Luke Carnicelli, principal at Southern Cayuga High School. Buffalo State's Peter Yacobucci, associate professor of political science, served as the moderator, relaying questions that participants had submitted.
One question had to do with interacting with people with opposing political views. Baskin said it's important to find common ground, and go from there. 
"A very powerful tool is listening, and making sure that the person feels validated, whatever that opinion may be," she said. "The worst thing, in my opinion, is if you dismiss what that other side is saying. That's been a very positive force for me."
Conway-Turner reinforced Baskin's point, saying that it's important to truly listen, as opposed to thinking about your rebuttal as the other person speaks. 
"You have to learn to really compromise," she said, noting that preparation is key when going into a situation with someone with different views on something. 
Asked by Yacobucci if educators were doing a good job of relaying that message to students, Conway-Turner said it's something she worries about. 
"I think we need to do a better job of helping our students be able to navigate conversations and work with people that are really different from themselves and have different views," she said. "I think that one of the skill sets that you can really hone, particularly in college but maybe also in high school, is forcing students to take different perspectives," she said. "Sort of like the debate model, so that you randomly are assigned with a different perspective and you don't get to choose the one that you want."
Maureen McCarthy, director of the Buffalo State Community Academic Center, said she attended the summit because its mission aligns closely with hers at the CAC. She said she had a hard time choosing which sessions to attend, as they all had something to offer. 
"There were a lot of great presentations," she said. "I'm taking notes, and I'll be cutting and pasting things into my to-do list."
 
---

Photos by Bruce Fox, Campus Photographer.
See more photos from the Reimagining Civics Education Summit on the Buffalo State Photography Services website.