Buffalo State College is proud to recognize four exemplary students who have been awarded the 2020 SUNY Chancellor's Award for Student Excellence (PDF, 560 KB). The highest student honor bestowed by SUNY, the Chancellor's Award recognizes students who have integrated academic excellence with distinguished achievement in areas such as community service, campus involvement, creative and performing arts, athletics, entrepreneurship, leadership, and career achievement. In the words of SUNY Chancellor Kristina M. Johnson, "Their many achievements are a testament to their drive and hard work, which is enhanced by the support of their family, friends, and campus community. Their success is a source of great pride for us all."
SUNY CHANCELLOR'S AWARD FOR STUDENT EXCELLENCE
Rakia Akter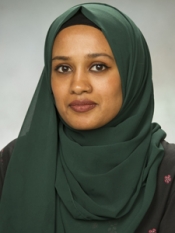 Rakia Akter is an extremely dedicated student and new teacher who is motivated to learn and serve. She possesses an innate curiosity that has driven her to build an understanding of pedagogy through study and research. She has completed her bachelor of science degree in childhood education (grades 1–6) in social studies, attaining a 3.88 GPA while participating in research, international experiences, and social justice initiatives. Highly motivated, she continually challenges herself and was accepted into Buffalo State College's 4+1 pathway to begin her master's degree in TESOL (teaching English to speakers of other languages).
During her time at Buffalo State, Akter has sought multiple research opportunities. After working with Burmese children as a substitute teacher aide at Elmwood Village Charter School, she was inspired to join the Myanmar study-away program sponsored by the Creative Studies Department. She conducted an analysis of classroom engagement techniques at a partner school in Yangon, Myanmar, and presented her findings at Buffalo State's Professional Development Schools (PDS) Conference and Student Research and Creativity Conference, as well as the 2019 National Association for Professional Development Schools Conference in Atlanta, Georgia. Later, she earned an undergraduate summer research fellowship to identify strategies to support the education of Burmese immigrants.
Because of her experience, expertise, and commitment to the refugee community of Buffalo, Akter was named an International Professional Development Schools (IPDS) student ambassador and a social justice fellow for the Sophia's Legacy conference, sponsored by Buffalo State's Anne Frank Project and School of Education.
A dean's list student throughout her college career, Akter was inducted into Kappa Delta Pi, the international honor society in education. She is a dedicated, hardworking, and knowledgeable student who has educated herself in order to educate others.
Jennifer Briones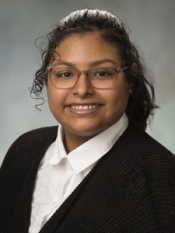 Jennifer Briones has consistently excelled in her academic work, student life activities, student recruitment initiatives, and volunteer work on campus and in Buffalo and New York City. She displays initiative and creativity in all her endeavors and contributes significantly to the vitality of Buffalo State College and the larger community. Briones has earned a bachelor of arts degree in international relations, attaining a 3.54 GPA while serving as a respected peer and civic leader.
Her interest in academic research integrates with the Political Science Department's emphasis on student scholarship. As a department research assistant, she analyzed the effectiveness of open educational resources and assisted with the department's five-year review process, organizing meetings with external reviewers and current students.
A dean's list student, she and her team received the Honorable Mention Delegation Award at the 2019 National Model United Nations in New York City. She also conducted research on natural resource wealth and its impact on sexual violence in conflict and presented her findings at the All Politics Is Local Conference at Walsh University in Ohio. 
On campus, Briones has worked to support her peers in many ways. She serves as chief justice of the United Students Government (USG) Judicial Council, resolving issues related to USG-funded organizations. She is also a Student Conduct and Community Standards hearing board member and member of the President's Task Force on Campus Safety. In addition, she is the lead resident assistant for Cassety Hall, supervising first-year students and the paraprofessional staff; has worked as a notetaker for the Student Accessibility Services Office; and has enthusiastically attracted new students at various recruitment events as an Admissions Office ambassador.
In the community, she applies her knowledge of civic issues by helping clients of Jericho Road immigrant and refugee services learn English and prepare for the U.S. citizenship test. She worked on social issues with the American Civil Liberties Union in New York City and coordinated a clothing and toiletry drive for Crisis Services in Buffalo.
Bryanna S. Marshall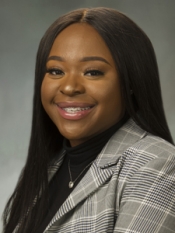 Bryanna Marshall is a conscientious and dedicated student who displays great attention to detail and passion for her work. She has earned a bachelor of science degree in speech-language pathology, attaining a 3.44 GPA while serving in numerous leadership roles across campus.
To further her progress in her major, she self-funded a trip to a school in Accra, Ghana, to study how certain cultural beliefs hamper the education of children with speech difficulties. On her return, she presented her findings at Buffalo State College's Student Research and Creativity Conference, the SUNY Undergraduate Research Conference, and the Collegiate Science and Technology Entry Program (CSTEP) Statewide Student Conference, where she won the first-place award for best presentation.
She is a founding member of the Buffalo State chapter of the National Black Association for Speech-Language and Hearing and a member of the National Student Speech Language Hearing Association. She has served on a plethora of student-led panels highlighting best practices for managing time, building relationships with faculty and staff, and the importance of creativity in a global society.
On campus, Marshall has served as a peer mentor in the Academic Success Office, a student assistant in the Career Development Center, a teaching assistant in the Buffalo State Child Care Center, and vice president of the Residence Hall Association. She is also a student ambassador with the Equity and Campus Diversity Office and the Admissions Office. She is the winner of the 2019 Residence Life Office Assistant of the Year award and the President's Certificate of Recognition for Community Engagement.
Marshall has demonstrated leadership in internships and work-study positions with the Buffalo Hearing and Speech Center, New York University's Rusk Institute of Rehabilitation Medicine, the Buffalo State Center for Excellence in Urban and Rural Education's after-school tutoring program, and Camp Anita Bliss Coler (Camp ABC). She has volunteered with the New York City Department of Education Children's Aid Society. Combining academic rigor and confidence with a humble nature, Marshall is the epitome of the positively and actively involved college student.
Esmeralda Sierra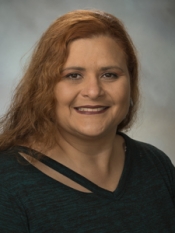 Esmeralda Sierra exhibits outstanding leadership qualities and academic skill. Her active class participation, exceptionally articulated written work, and statistical research are an inspiration to fellow students. Beyond her academic accomplishments, she has shown an impressive commitment to community service and social equity. She has earned a master of public administration, attaining a 3.72 GPA while working as a professional in the organ donation and transplantation field.
As part of a class on nongovernmental organizations and international development, she participated in an academic trip to Rajasthan, India, where she studied the Manjari Foundation's microfinance and women empowerment programs. As a member of the Buffalo State College delegation, she traveled to New York City to participate in the SUNY Model European Union. These cultural experiences have informed her considerable work on campus and in the community.
On campus, she has served as president of the college's chapter of the Global Society for Public Affairs and Public Administration and as a senator for the Graduate Student Association. In these roles, she coordinated numerous outreach events, including Public Service Recognition Week activities, graduate student poster contests, and academic panel discussions.
In the community, Sierra has served as vice president of the Near East and West Side Task Force, working as an advocate for underrepresented groups and promoting health fairs and lectures. As treasurer of the Hispanic Heritage Council of Western New York, she helped secure funding for the construction of the Hispanic Heritage Cultural Institute in Buffalo. In addition, she has served as a Hispanic/Latino work group co-chair of the Association for Multicultural Affairs in Transplantation, and she volunteers for the family services department of ConnectLife as a translator and interpreter for Latino families. As a result of these civic leadership positions, she has effectively enhanced social justice and equity within Western New York and promoted a more welcoming environment for all.
---
Photo credit: Onondaga Community College.
Portraits by Bruce Fox, campus photographer.