For the past 12 years, Erin Habes, '03, lecturer in Buffalo State College's Fashion and Textile Technology (FTT) Department, has overseen the campus's iconic Runway fashion show. The glittery competition and fundraiser features the work of student designers every April, and also relies on the talents of students studying fashion merchandising, fashion show production, fashion marketing, and art and design to create a professional-grade show open to the public.
When it became clear that hosting a live Runway was impossible this spring because of the coronavirus, Habes brainstormed with Ali Eagen, FTT lecturer who teaches the Senior Design course, and students in Habes's Fashion Show Production course to find an alternative project. 
What emerged was Runway Diaries, a documentary highlighting FTT students' work and their strategies for remaining resilient during the pandemic. "Overcoming: This Is Our Story" will stream live on Runway's Facebook and Instagram pages and on Buffalo State's YouTube channel on Friday, May 15, at 8:00 p.m. M&T Bank is sponsoring the event.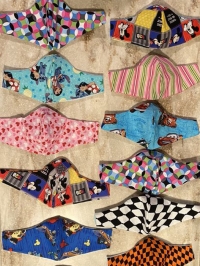 "As we're watching everyone on social media go through this difficult journey, being transparent and vulnerable, we thought, why don't we create our own dialogue about what's going on?" Habes said. "The students will share their stories and their struggles while also showing us the creativity that comes from their daily lives. We're doing our own Q&A, asking questions like How are you coping? How are you staying creative? How have you pivoted in this new reality?"
Some students will reveal garments they've made for their senior projects; some of these include matching face masks created for local health-care workers, relatives, and friends.
Senior Abigail Wetzler (pictured), a fashion merchandising major who is participating in the documentary, started a mask-making project in mid-March on her own with zero sewing experience.
"I've never sewn anything in my life; however, with so many people in need, my determination was high," Wetzler said, adding that her mother, who owns a custom curtain business, quickly taught her how to make masks.
"With the abundance of fabric, yarn, and other supplies she already owns, it was easy to donate as many masks as we could produce," said Wetzler. "I've made almost 300 masks by myself. I've given some to Horizon Health Services, where my sister works in an administrative role. The staff said the masks feel personal to them, and they are so appreciative."
As in Runways past, FTT is collaborating with the Art and Design Department. This year students in associate professor Józef Bajus's introductory fibers course will showcase the masks they've made for health-care workers, while graphic design students in associate professor Brent Patterson's Motion Graphics course are creating the opening, closing, and title pages for each senior designer. 
Students are using their cameras or cell phones to create the video content, and local videographer Justin Bondi is putting the video together for the documentary.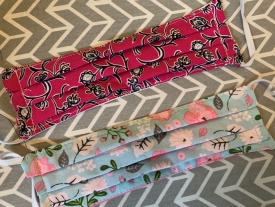 As her students share their work, Habes has been struck by their ingenuity and positive attitudes.
"They're really cheering one another on," Habes said. "This is not a competition. With student designs this year, the focus is on finding your creativity, finishing your work, and encouraging your peers."
Not being able to have a live Runway show this year has inspired Habes to imagine a more spectacular show in 2021, possibly held in the college's Sports Arena. 
"My goal is to keep all our seniors' garments so that they can be included in a bigger Runway in 2021," she said. "Next year will also mark the 150th anniversary of the college, so it seems appropriate to offer something big that highlights the amazing talents of our students."