Buffalo State College President Katherine Conway-Turner announced Thursday that James Mayrose has been appointed the college's next provost and vice president for academic affairs, following a national search. Mayrose has served as Buffalo State's interim provost and vice president for academic affairs since January 2019.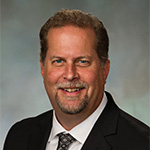 A member of the Buffalo State community since 1999, Mayrose joined the college as a part-time lecturer of engineering technology, eventually rising to the rank of full professor in 2015. From 2012 to 2015, Mayrose served a term as chair of the Engineering Technology Department before being named dean of the School of the Professions from July 2015 through January 2019. During the 2017–2018 academic year, he temporarily stepped aside from the deanship to provide leadership as the college's interim chief information officer and vice president for enrollment, marketing, and communications.
"Dr. Mayrose's keen understanding of our institution through his varied and progressive academic and administrative experiences over the past 20 years, combined with his steady and strategic leadership, made him the ideal choice to lead the division of academic affairs now and in the future," Conway-Turner said. "Over and over again, I have heard student, faculty, and staff accounts of Dr. Mayrose's welcoming, supportive, and collaborative disposition—an approach that I have witnessed firsthand and am confident will serve our institution well."
Serving for the past year as the interim provost and vice president for academic affairs, Mayrose has overseen a number of important and transformative initiatives, including serving as co-chair of the President's Advisory Committee on Undergraduate Retention, leading the College Planning Council, and overseeing a reorganization of the Center for Excellence in Urban and Rural Education as well as a reorganization and refocusing of efforts in the area of Continuing and Professional Studies. Most recently, he has led and coordinated the college's efforts to move to remote instruction in response to the COVID-19 pandemic.
"Buffalo State routinely demonstrates how higher education can change lives," Mayrose said. "I have dedicated my career to empowering others to become lifelong learners who are agents of change, and Buffalo State is the perfect place for me to build on that work. I'm honored to have been selected as provost and vice president for academic affairs and will work tirelessly to help faculty, staff, and students maximize their potential."
In 2009, Mayrose was honored with the Buffalo State President's Award for Excellence in Teaching and, in 2015, received the SUNY Chancellor's Award for Excellence in Teaching.
An accomplished entrepreneur, Mayrose was invited to the White House in 2014 to receive the prestigious Tibbetts Award for Innovation from the U.S. Small Business Administration. He is the CEO and founding partner of Tactus Technologies Inc., a maker of virtual reality products for the education and industrial training fields. The company has garnered more than $5 million in federal research grants. Two of Tactus's biggest products are V-Frog, a virtual frog dissection simulator, and a virtual forklift safety trainer.
From 1991 to 2006, Mayrose served in various research capacities with the University at Buffalo's departments of Emergency Medicine, Mechanical and Aerospace Engineering, and Physiology and Biophysics. He also worked with the Grumman Aerospace Corporation in Bethpage, New York, from 1989 to 1991 as an associate configuration engineer supporting the F-14 fighter aircraft program.
Mayrose earned his Ph.D. in mechanical engineering (2000), his M.S. in mechanical engineering (1993), and his B.S. in aerospace engineering (1989) from the University at Buffalo.
 
---

Photo by Bruce Fox, campus photographer.