While growing up in Charlotte, North Carolina, Aaron Daniel "AD "Annas, assistant professor and director of Buffalo State College's television and film arts (TFA) program, was fascinated with the supernatural. He understood the Holy Ghost from his Christian upbringing, but he also contemplated the existence of other kinds of ghosts.
When he asked his parents their thoughts, his father replied unequivocally that there is no such thing. His mother, however, was more nuanced in her answers. As an adult, Annas channeled his imaginative spirit into becoming a filmmaker and educator. He joined the Buffalo State Communication Department in fall 2015 after stints in stage acting and film and TV production in Los Angeles and Chicago.
Soon after coming to Buffalo, he began a journey to answer the question that has dogged him most of his life—and the result is a 60-minute documentary, There's No Such Thing as Ghosts?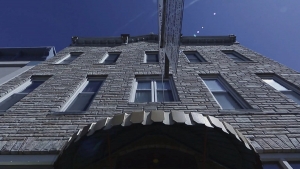 The film will be released on July 21 by 1091, a global distributor of independent films and TV shows, on most digital platforms, including Amazon and iTunes. The company will also pitch the documentary to subscription streaming sites such as Hulu and Netflix. Eventually, the film will be available on 1091's new streaming channel, Unidentified. (See the trailer.)
The film has been well received at festivals across the country and has collected awards, including best documentary at Cinemafest 2019 and best documentary and best documentary director at Prison City Film Festival 2020.
There's No Such Thing as Ghosts? is definitely a labor of love that took four years and hundreds of hours of interviews and footage throughout Pennsylvania and Western New York. Annas received an Individual Development Award from the college to help fund the project and relied on Buffalo State talent. Brian Milbrand, technical director and equipment manager for the Communication Department; Ruth Goldman, associate professor of communication; and Thilo Schaller, assistant professor of music, served as cinematographer, audio recorder, and musical score creator, respectively. In addition, two communication majors worked as interns, and multiple students volunteered on the set.
Along with interviewing professional ghost hunters, a psychic, a medium, and former inhabitants of supposedly haunted houses, Annas included the opinions of scientists and skeptics who debunk the idea of otherworldly spirits.
"My idea was not to be a ghost hunter, but to find out why different individuals believe what they believe," Annas said.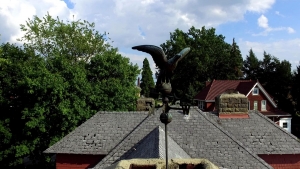 The edited film includes footage from four locations, including the Knickerbocker Hotel in Linesville, Pennsylvania; "The Demon of Brownsville Road," a house in Pittsburg, Pennsylvania, that was examined in Bob Cranmer's 2014 book of the same name; and the Hinsdale House in Hinsdale, New York, which was featured in Buffalo author Clara Miller's 1999 book Echoes of a Haunting. He also interviewed a Colorado psychologist who once believed she was personally haunted but no longer does and a senior research fellow with the Center for Inquiry in Amherst, New York.
 "I wanted to be as unbiased as possible," Annas said. "I made sure my crew represented different religions and beliefs, and I featured professional skeptics as well as professional ghost hunters."
The crew did experience some spooky and unexplained activity, he said. For instance, when they were filming in the Knickerbocker, the interns thought they saw Annas standing in an upstairs hallway. But he wasn't in the vicinity at the time; no one was. Also, while filming a séance in Amherst, a doll started rocking back and forth.
Despite these incidents and the days and nights Annas spent in places long rumored to be haunted where he said he felt "activity," he still isn't completely convinced that ghosts exist. If they do, he said, he doesn't believe they should be feared.
"Even in the places that are historically known to be haunted, it took a long time for things to happen, and sometimes nothing did," he said. "I'm a lot less scared than I was at the beginning of this project; however, there is definitely a lot we don't know and can't explain."
---
Pictured (top): The Hinsdale House on McMahon Road in Hinsdale, New York; (inset): the Knickerbocker Hotel in Linesville, Pennsylvania; and the Demon House on Brownsville Road in Brentwood, Pennsylvania, courtesy of AD Annas.