Two Buffalo State College seniors have been selected as honorees of the SUNY Chancellor's Graduate Fellowships for the State of New York.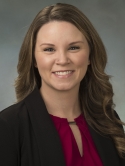 Vanessa Schieble, a psychology major, and Vincent Agro, a chemistry major with a mathematics minor, are among 100 students throughout SUNY who will receive grants of up to $5,000 to continue their education at a SUNY campus for either completion of a bachelor's degree or a graduate degree.
"We are immensely proud to recognize these exceptional students from across SUNY who have worked tirelessly to excel in their fields of study," said SUNY Chancellor Kristina M. Johnson. "Their recognition as the winners of the Chancellor's Graduate Scholarship Award will no doubt inspire countless other students to pursue their educational path at SUNY, and in turn, we will continue to provide access and opportunities to invest in tomorrow's innovators, entrepreneurs, and leaders."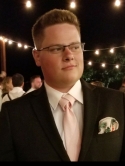 The Chancellor's Undergraduate Scholarships and Graduate Fellowships program was announced in January 2020 during Johnson's third State of the University System address. Grants are funded through prior New York State investment in higher education to SUNY.
Eligible students must have maintained a grade point average (GPA) of 3.3 or higher and be either a graduate of a SUNY community college planning to pursue a bachelor's degree at a SUNY college or university, or a SUNY student graduating with a bachelor's degree who will stay with SUNY to receive a graduate degree.
Both Schieble and Agro earned bachelor's degrees in May and will enter graduate programs at Buffalo State in the fall—Schieble in higher education and student affairs administration (HESAA) and Agro in science education.
Schieble, a St. Peters, Missouri, native, transferred to Buffalo State in spring 2017 after completing two associate's degrees while serving in the U.S. Air Force. She maintained a 4.0 grade point average and received high accolades including the 2020 Buffalo State College President's Medal, the highest honor awarded to a Buffalo State student, and the Dr. Esther McGinnis Award in Psychology, which recognizes highest academic achievement and excellence among graduating psychology majors.
Agro, a native of Orchard Park, New York, entered Buffalo State in 2016 within the Muriel A. Howard Honors Program. He has received numerous awards, including the 2018 Chemical Rubber Company Chemistry Achievement Award, the 2019 ACS Polymer Education Award, and the 2019 Dr. Chrzanowski Analytical Chemistry Award. In 2020, he received the American Chemical Society Western New York Section's Outstanding Senior Award, the American Institute of Chemists Award, the Dr. Surjit Singh Memorial Physical Chemistry Award, and the Saul Barron Memorial Award.
"I'm proud and thrilled that these two hardworking students will have the chance to pursue their graduate studies with the help of well-deserved fellowships," said James Mayrose, Buffalo State provost and vice president for academic affairs. "The fact that both Vanessa and Vincent chose to continue their studies at Buffalo State also makes me proud but not surprised. When students demonstrate such talent and drive in their academic fields, our faculty and staff support them wholeheartedly and help them reach their desired goals. The students also have the chance to become acquainted with the stellar graduate programs offered on our campus." 
Schieble's professional goal is to afford equal educational opportunities to adult learners and to evolve teaching methods and techniques to enhance the student experience.
 "The HESAA program offers career flexibility that is exciting," Schieble wrote in her candidate statement. "With this degree, I can be involved in creating an exceptional learning atmosphere for my students through research, administration, or instruction. I'm also interested in learning about social and cultural inclusion within a diverse student body. It is my hope that the HESAA program will lead to continued professional relationships within the SUNY school system." 
Agro's goal is to teach high school students in chemistry and mathematics, after becoming dual certified. Growing up with parents who taught school instilled in Agro the desire to go into the teaching profession. He said that working as a tutor in the Buffalo State Math Center only fueled that desire.
"The capability to help someone work through a problem they have been struggling with, and the ability to see on their face when they have that 'Aha!' moment, is one of the most rewarding perks of my job," Agro wrote in his candidate statement. "It did not take me long to fall in love with tutoring, and it has made me certain the next step in my journey is to pursue a job in education. I hope one day I can give someone the gift of knowledge."
The Chancellor's Undergraduate Scholarships and Graduate Fellowships support up to two students from each nominating campus. Awards are made as grants to the students to defray the costs of room and board, books, technology, child care, or other eligible costs of attendance apart from tuition.
A list of participating campuses (PDF, 124 KB) is available on the SUNY website.